Endodontic practice management software that will bring the future to your practice today.
Helping your staff be more effective, your practice stand out more to patients and referrers, and freeing you from IT hassles with a fully web-based system that just works.
You're not going to stand out by doing the same as everyone else.
To succeed as the owner of an endodontic practice, you not only have to provide outstanding medical care. You also have to stand out in how you interact with your referrers and patients. You have to stand out from the competition.
Having patients see dated, complex desktop software up on aging PCs, or referrers logging into portals that look like their from the 1990s, won't help you stand out. Having your time and expenses bogged down in clunky server and IT support headaches, and your capital tied up in rapidly depreciating practice management software licenses, won't help your practice operate lean or stay nimble. And practice management written in bygone software technologies won't be able to help you stay ahead of the curve.
Stand out by keeping your software ahead of the rest.
Imagine accessing your practice management system from your modern devices, like a 'Mac, or 'Pad. From inside the office or on the go from your mobile phone. Imagine a simple, clean user interface that is uncluttered with unnecessary features — much like contemporary phone or tablet app — that's simpler to use and gives your patients and referring dentists a modern feel you can be proud of. Imagine getting constant, automatic updates without needing to call your IT guy, and no server closet full of wires and costly headaches — and maybe even not needing an on-site IT guy. Imagine staying ahead of the curve instead of struggling to keep up, with a practice management system you can be proud of.
Dental EMR, your web-based, cloud-hosted practice management system for endodontists, can do all this for you and more.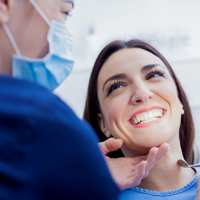 Stand out to your patients.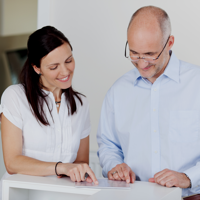 Stand out to your referrers.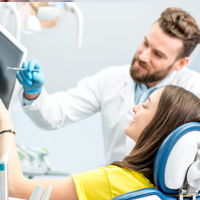 Stand out from the competition.

Step 1: Schedule an intro
To see how Dental EMR can bring the future to your practice.

Step 2: Try it in your practice
With our introductory offer.

Step 3: Stand out
With the only web-based practice management software designed for endodontists.
Dental EMR is designed specifically for endodontists by endodontists.
Dental EMR isn't just a practice management company. We are practitioners who understand your challenges. We're a partner that always has your back and always keeps your best interests in mind.
We are founded by dental practitioners who are committed to dentistry and understand your challenges first-hand.
Dental EMR gives you the edge.
We help small to medium size endodontic practices like yours stand out to their referring general dentists, provide more care and attention to their patients, focus more on success and less on overhead activities, and stay ahead of industry high tech trends to help maintain their competitive edge.
Our web based, paperless, secure endodontic dental practice management software, integrated training, and customer success services are a complete endodontic solution designed to help your practice succeed with your referring dentists and the patients they refer to you. Designed to help your practice stand out.
We help you provide more value to general dentists and make it easier for them to refer to you.
We help your staff provide a better experience to your patients.
We relieve IT and HIPAA-compliance cost, complexity and headaches.
We keep you in front of high tech trends so your practice stays ahead of the competition.

Stand out.